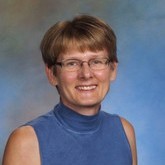 Mrs. Susan Watanabe
Algebra & English
Algebra 1 (8th), English 9 (9th)
Algebra 1
http://pfaalgebra1.blogspot.com/
English 9
http://pfaenglish9.blogspot.com/
Susan has a passion for learning and teaching which she discovered while home schooling her two daughters from preschool through high school. One is now in college at the Academy of Art in San Francisco, and the other graduated from Santa Clara University and has joined the work world. Susan now continues to fire her passion by working with the children of other homeschooling parents.
Since she was quite young, Susan remembers loving to be in the yard growing things. You will still find her in her garden whenever she has a spare minute. She also loves most crafts that involve fiber, including sewing, knitting, spinning, weaving, and quilting. Skiing is her sports passion and she is trying her best to stay strong enough to continue! She also loves going camping and hiking with her family. Susan graduated in 1977 with a Bachelor of Science degree from Cal Poly.
Susan started teaching math at Pioneer Family Academy in the spring of 2008. Susan has always enjoyed math and she has been tutoring and teaching math courses to students other than her own since 2005. She thinks math is fun and relaxing! From 2003 to 2006, Susan took a group of home schooled teens through the course World Views of the Western World where she became fascinated with the ideas and importance of world views. During the 2008 – 2009 school year, she first taught the course, Starting Points, an English course which has the added benefit of using world views as the base for the reading, evaluating, discussion, and writing which would normally be taught in an English class. Susan realized the tremendous potential this course has to help a Christian student stand strong in his or her faith in college. Challenged by the other belief systems of this world, the student of this course will find he is equipped with the strong reasoning abilities and the needed information to continue to choose and defend his Christian faith. Susan has been teaching English 9 at Pioneer Family Academy, using the Starting Points curriculum, since September 2009.
One of her favorite Bible scriptures is:
"Rejoice in the Lord always. I will say it again: Rejoice! Let your gentleness be evident to all. The Lord is near. Do not be anxious about anything, but in every situation, by prayer and petition, with thanksgiving, present your requests to God. And the peace of God, which transcends all understanding, will guard your hearts and your minds in Christ Jesus. Finally, brothers and sisters, whatever is true, whatever is noble, whatever is right, whatever is pure, whatever is lovely, whatever is admirable—if anything is excellent or praiseworthy—think about such things. Whatever you have learned or received or heard from me, or seen in me—put it into practice. And the God of peace will be with you." Philippians 4:4-9